Federation of Cambodian Intellectuals and Students
About FedCIS
Mission and Backgrounds
Federation of Cambodian Intellectuals and Students (FedCIS) is a non-governmental organization (NGO), not for profit, independent and non racism or colors, non religious and non­partisan organization. It is created to represent students and intellectuals in Cambodia. It aims at protecting and serving legal interests of Cambodian Intellectuals and Students and for national society of Cambodia as a whole.
FedCIS is initially formed on 03 September 2008 by a group of Cambodian students and intellectuals who are passionated about enhancement of human rights and democracy in Cambodia and are committed to make a change in Cambodia society.
FedCIS is officially registered as a Local NGO with Minitry of Interior and it is approved by the ministry through a letter No. 221 Sor.Chhor.Nor dated 28 November 2008 to implement its programme activities legally.
OUR 10 POINTS POLICIES
FedCIS has 10 points policies as following:
To protect legal interests of Cambodian students and intellectuals especially for members of FedCIS. Absolutely protect our members from intimidation labour exploitation and injustice actions made by people.

To help to provide professional development and technical vocational training to Cambodian youths, students and intellectuals in order for capability enhancement for either jobs or effective performance.

To encourage government to create more jobs opportunities for students, good quality of education for students and youths.

To respect the democracy doctrine and human rights and to encourage government to respect the democracy and human rights including women rights, children rights and rights of people with disabilities.

To participate and encourage government for health care and education in comprise of physical, mental and sexual health for youths, students and intellectuals of Cambodia.

To participate in promotion of education and protection on sexual trafficking and drug abuse.

To participate and urge the government to protect national resources and environment as well as climate change for both Cambodian and the globe.

To participate in protecting and promoting Khmer culture and urge the government to prohibit any flows of negative foreign culture.

To participate in gender development and urge the government to prohibit domestic violence, child labour and human trafficking and

10.

To urge the government to transparently and effectively provide public services and to strengthen its efforts on anti-corruption, rules of laws, and social justice and equity.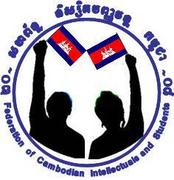 +++CONTRIBUTE TO FedCIS+++
As an advocate for betterment of Cambodia, Human Rights Respect and Democracy and a catalyst for change in Cambodia, FedCIS depends on your support for its mission.
Your
Donation Makes
a Difference in Cambodia
With your immediate help, we can maximize
our efforts to advocate for changing the current development shortfalls of Cambodia for the good of the Cambodian population.
OUR PROGRAMMES/ACTIVITIES
YOUTH TODAY is LEADER TOMORROW, so whatever youth receive today, it will result tomorrow and future!!!
All of FedCIS's program activity is clustered around the following five development shortfall areas, which form the
core thrust of Fed
CIS's initiatives.
Education

– to advocate for improvement of the quality of education and provide various short courses training to students and youth.

In the education program, FedCIS also initiates a sponsorship program called "T

he Eldest Female Children Foundation". We also set up free special English conversation class with foreigners, student leadership program etc.

Employability

– to advocate for decent works for youth, students as well as unemployment free and improve young people's employment, entrepreneurial, and personal skills as a way to build their capacity for and engagement in productive work. To create opportunities for students to build a network with other professionals in Cambodia.

Leadership and Engagement

– to inspire, support, and promote youth engagement and the role of young people as leaders of positive social change, as a way to foster a lifelong commitment to active citizenship. E.g: Students Stop Smoking!, Students Stop Corruption!

Climate Change/ Environment & Youth – To get Cambodian youth involved in to work under solidarity network toward environmental sustainable activities and rising awareness amongst youth of Cambodia about impact of today climate change, green development, climate change and other environmental issues. We want people to know that CAMBODIAN YOUTH not only think about themselves but think about the society and environment for all!

Human Rights and Democracy

– to teach youth on universal declaration of human rights, citizenship roles and democracy and to advocate for social justice and rules of laws.
Why join FedCIS?
There are intensive benefits you may obtain from being a member of FedCIS. Here are just a few:
+ Intensive training and workshop opportunity: FedCIS aims at delivering various training and workshops to its member. There are regular and irregular courses conducted by FedCIS alone or in association with our partners. The courses include huuman rights, leadership, human resources, career management/job search skills, project management, English practice, etc.
+ Opportunity to build a career network with potential future employers: FedCIS is affiliated to Cambodian Professional Network Association (www.campronet.com) that is where professionals in Cambodia can meet and network through their networking events.
+ Internship opportunity and mentorship opportunity: FedCIS is for its members, IT'S FOR ALL! Therefore, it is the place for everyone to use it as a stepping stone to gain real work experiences whether in the fields of public relations, management, administration, accounting, legal, advocacy etc.
+
Help to protect you on human rights abuses:
As FedCIS is a representative of Cambodian students and intellectuals, the more members it has the more influence we'll have! Be part of a united federation for fostering change in Cambodia society. Executive Committee of FedCIS is actively doing advocacy campaign for protecting interests of Cambodian youth, Students and Intellectuals as well as lobbying the relevant ministries to pay more attention to issues of Cambodian students, youths and intellectuals. Especially, you can seek for assistance from FedCIS in case you are abused or illegally intimidated by other people.